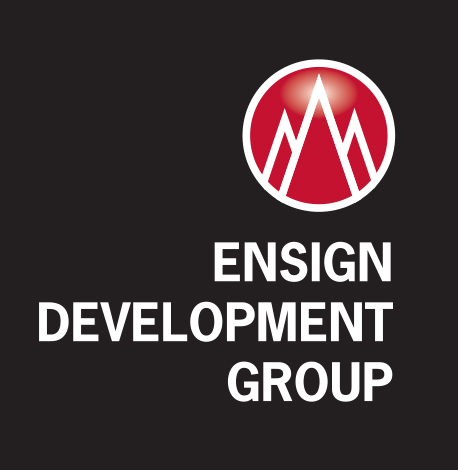 Commercial Real Estate Development
Ensign Development Group, LLC was started in 2004 by M. Brett Jensen and Jeremy Terry.  Ensign specializes in working with national tenants in identifying and developing locations to assist them in their corporate growth initiatives.  Since 2004 Ensign Development Group has developed over 1,000,000 SF of retail space in 9 western states.  During the last 12 years we have assembled a team of experts in the real estate, financing, construction and design.  Our team has shown a unique creative ability to develop for our corporate partners in towns where other developers have failed.  We have also been very successful in helping other professionals and business on a consulting basis in expanding, relocating or assisting them in realizing their dreams of owning their own Real Estate.
M. Brett Jensen has been a founding member of Ensign Development Group since 2004. Brett got his start in Real Estate Development in 1997 as a project manager developing grocery store sites throughout the Intermountain West in the Store Development Department of Associated Food Stores in Salt Lake City, UT. Brett brings 20 years' experience in commercial real estate development with a unique expertise in the leasing, financing and construction portions of the development process. Brett received an MBA from Utah State University in 1999.
Jeremy Terry has been doing commercial real estate and development since 2002, specializing in single tenant developments across central and western United States.
In 2002 Jeremy started his career in managing apartments; he worked his way up from a leasing consultant to an assistant manager to a property manager of complexes over 260 units within the space of a year. During this time he strengthened his communication, negotiation, organization and managerial skills. While property management was a great starter and opportunity for Jeremy, he was not satisfied, in 2005 when an opportunity presented its self to get into commercial real estate and development, Jeremy jumped.
Jeremy's experience in commercial real estate leasing has given him a unique perspective and understanding of clients specific needs in locating and executing their ideal space requirements. Jeremy's main focus is in helping to create and maintain long-lasting relationships with tenants. He is key in helping work through the lease negotiation process, getting through entitlements and managing the construction process.
Jeremy is a husband and father of 6 children; this helps him consistently bring a strong work ethic and excitement to succeed.